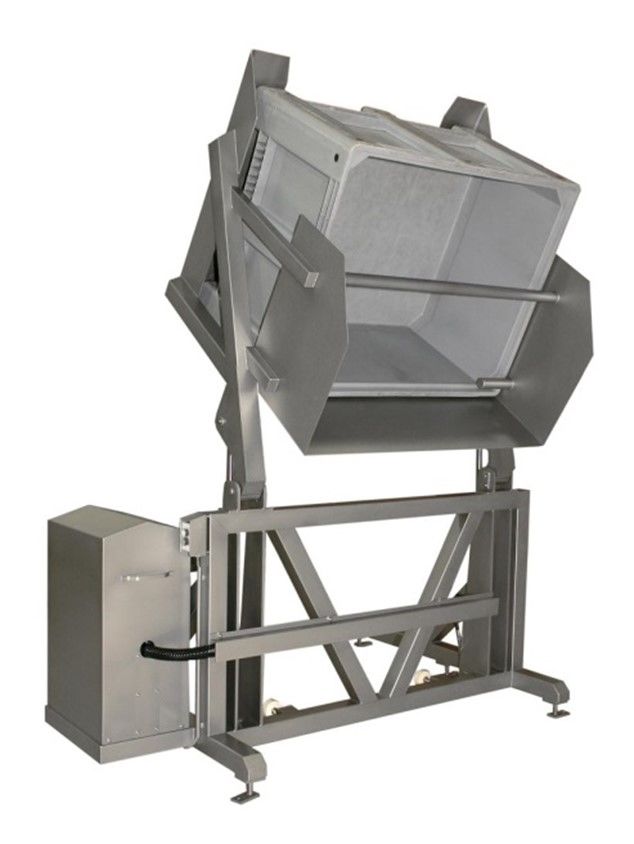 EDT - GmbH - Tilting devices - Quality made in Germany

Our tilting devices are at home wherever lattice boxes and containers have to be emptied and transshipped or parts have to be separated and fed. We know the requirements when it comes to lifting and tilting lattice boxes, containers and loads, because we have worked on a large number of projects for national and international industrial companies. This knowledge enables us to offer a tried and tested tipping device for almost every lifting requirement. The Heim-EDT tilting devices are made of high-quality steel and aluminum, which underlines their value as a long-lasting accessory for your production processes. And since we manufacture our tilting devices in Germany, you can be sure that they meet the strictest quality standards.
For other models, please contact us directly.
Tilting devices such. B. lattice boxes are used to load machines and to separate or pack components. In this way they can be used as part of an automated feeding process. The tilting devices are matched to the size of the box pallets used in logistics and distribution centers. They can also be equipped with a loading device so that the goods can be placed in the boxes using vacuum suction devices.
Tilting devices for lattice boxes consist of three main components: the base frame or carrier, the tilting mechanism and the folding device. We deliver each part individually so that you can put together your own tipper according to your needs. This also enables individual adaptations to special requirements, such as compliance with safety standards, the protection of parts susceptible to damage or the accommodation of additional installation components such as valves or cabling.
The tilting device can be adapted to the capacity of the container, the weight of the load and the unloading height.
Lifting and tilting devices
Lifting and tilting devices, mainly for loading machines or material bunkers, are designed and manufactured according to your individual specifications.
The use of the lifting and tilting device in automated processes can be switched on or off at any time.
As a container tipper, e.g. for lattice boxes, pallet tilting devices or as an ergonomic work aid for safely depositing loads up to 20 t
We manufacture the right tilting device for every requirement.
HEIM - EDT | THE RIGHT CHOICE
We attach great importance to sustainability in the development of our plants. The Washing systems are extremely resource-saving thanks to the integrated water filter.
We are constantly working on the further development of our products in order to keep your products hygienic and safe.
All our products meet the highest European standards and have been manufactured according to the HACCP concept.
Our products are optimallyUGtailored to your needs. For this purpose, we plan your project together and provide you with advice.