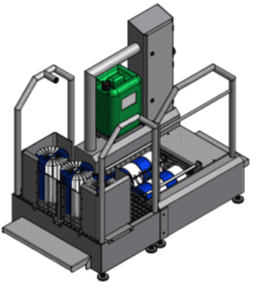 Sole cleaning with sole cleaning machines
We offer different types of sole cleaning machines, from small sole cleaning machines for cleaning individual shoes to industrial shoe cleaning machines. Our systems are the perfect solution for sole cleaning.
We adapt the sole cleaning machines to your needs.
Hygiene stations with built-in turnstiles, hand washing and disinfection can be found here.
Below you can see an extract from our wide range.
Sole cleaning machines

in the food industry
The industrial sole cleaning machine from Heim EDT GmbH is the optimal solution for sole cleaning and shaft cleaning. The sole cleaning machines are made of stainless steel and are therefore perfect for personal hygiene in your company. All products, including the sole cleaning machine, are made of high quality stainless steel, have rounded corners and hardly offer Attack surface for bacteria.
A home EDT sole cleaning machine ensures that the shoes are clean when entering and leaving the production area. Every company that strives for impeccable hygiene practice benefits from a powerful, user-friendly, fast and inexpensive sole cleaning machine.
Properties of our sole cleaning machines for shoes:
Replacing the brushes on our machine is easy and does not require special equipment for industrial cleaning systems.
The disinfectant dosing of the sole cleaning machines is automated.
The hygienic design is characterized by a smooth surface.
The height of the sole cleaning machine or the shoe cleaning machine can be adjusted
Heim-EDT offers a variety of shoe cleaning equipment ranging from a sole cleaning machine to a drying machine or other industrial cleaning equipment for cleaning the entire shoe. The horizontal brushes of the sole cleaner are activated with a switch. The industrial boot cleaner has vertical brushes that clean the side walls of the boots. The brushes can be adjusted in height for complete cleaning. The best combination is a shoe cleaning station with additional disinfection for the soles and sides of the shoes. Some shoe sole cleaning machines have a hand brush for cleaning shoes by hand. Our sole cleaning machines and drying devices are all made of stainless steel and allow easy and thorough cleaning. With our sole cleaning machines or drying systems, every shoe shines in new splendor.