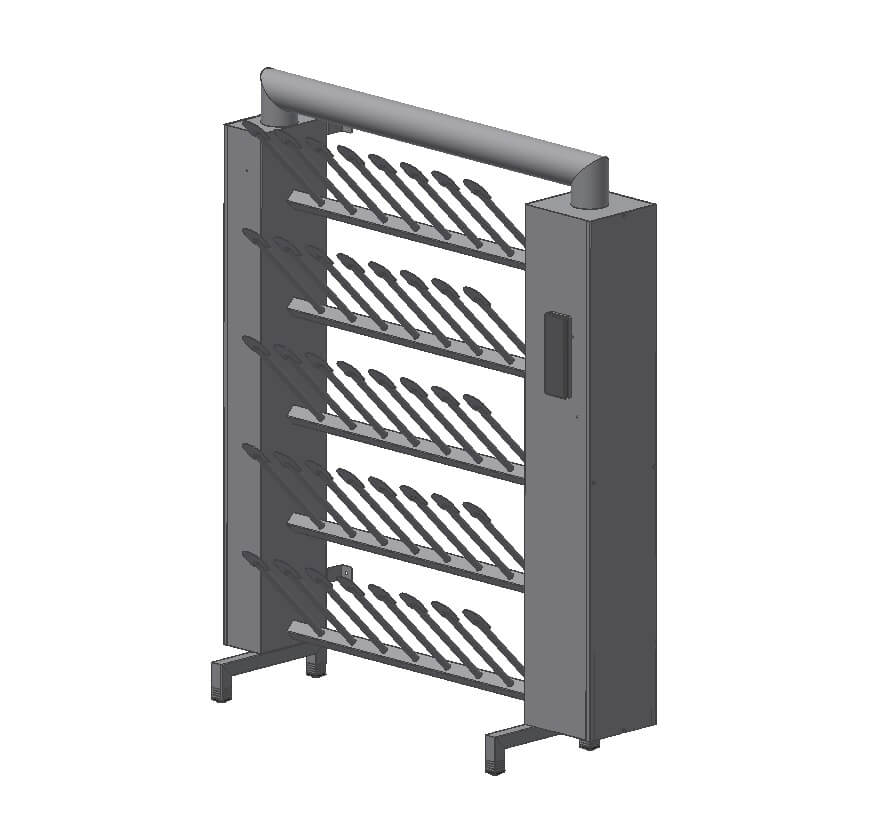 Shoe Dryers and Doot Dryers
The electric shoe or boot dryer is made of stainless steel and adapted to the conditions in your company. The shoe and boot dryer offers the best dry results, thanks to years of experience in the production of dryers for shoes, boots, clogs and ski boots.
Capacity: 10 – 500 pairs of shoes per hour
Material: Stainless steel 1.4301
Electrical connection: 230 V, 50 Hz, 2000 W
Drying temperature: approx. 30-40°C (depending on room temperature)
Drying time: 20- 90 minutes (low drying time due to high air circulation).
The shoe dryers & boot dryers can be supplied as a floor or wall version, usable on one or both sides
The electrical drying device can dry the following objects
Shoes
Clogs
Boots
Ski boots
Optionally, we can adapt the system to your goods to be dried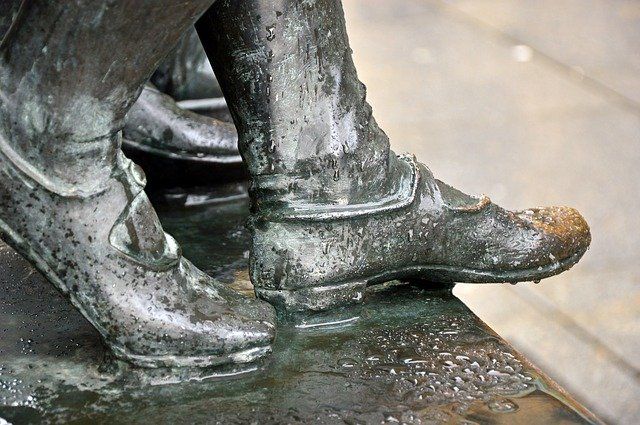 HEIM - EDT | THE RIGHT CHOICE
Not only do our many years of experience with washing systems, hygiene sluices and industrial facilities speak for us, but also our satisfied customers and partners. We don't just offer you solutions – we develop joint and perfectly tailored concepts and are at your side for any questions, worries and difficulties. Contact us comfortably and without obligation for more information, prices and further information.
Drying with an electric boot dryer & boot dryer
The boot dryer & shoe dryer can be supplied as a stand or wall version. The stainless steel drying module for drying shoes and boots can be supplied on one side or on both sides.
The boot dryer or shoe dryer can optionally also be used for shoe heating or shoe heating. The energy-saving boot dryer is equipped with a high-performance hot air blower, which circulates 350 sqm of air per hour. The air in the boot dryer is blown directly into each individual boot/shoe with approx. 0.2 – 0.3 bar from the pipe opening (diameter 20 mm). As a result, the drying time of the boot dryer is very short and prevents the promotion of germ formation in the boot/shoe. Due to the high air circulation, the room in which the dryer is located is freed from bad odours.
The dryer has a 7-day weekly timer (Siemens logo), which can be programmed per day with 4 on/off times. There is a switch on the dryer where you can choose between a manual or automatic circuit.
The Heim – EDT electric boot dryers have an electric blower and are extremely gentle in handling resources.
Drying systems with integrated heating
The electric boot dryers or shoe dryers made of stainless steel are designed to dry the shoes, boots and rubber boots of your workforce after use and to store them safely. The integrated heater has a timer so that your staff has dry and disinfected shoes at the start of their work. The shoe heating ensures dry feet of your employees, regardless of whether they are wearing rubber boots, clogs or other footwear. The shoe dryer reduces the risk of your staff getting sick and reduces bacterial contamination. Furthermore, the electric boot dryers save resources. Below are the advantages of a Heim – EDT boot dryer:
Hygienic design
Robust design
High quality components
Low maintenance
Reduces bacterial contamination
Saving resources
Strengthens the health of your employees
Protects your products from contamination by bacteria and employees
Safe and clear storage of your shoes and boots
Adjustable drying time
Suitable for many different models
We have a large selection of electric boot dryers and shoe dryers and we look forward to making you an offer.
Air drying of boots, shoes and clogs
The shoe dryers / boot dryers were specially developed for shoes, boots and gloves in industry and commerce, but are also increasingly being used in private households. In every corner of the room, regardless of the size of the version (2 pairs, 5 pairs, 10 pairs, 15 pairs or 20 pairs of shoes / boots). The unique design of the curved brackets ensures that your shoes and boots are fully ventilated and dried on time at all times. This method is also applicable to gloves. Pathogenic germs, bacteria and fungal spores hardly have a chance of spreading through your shoes.
These machines help keep your shoes in great shape by circulating heated, well-tempered air. This prevents, for example, leather from becoming hard and cracking. The amazing result is amazing: shoes and boots that are always dry and ventilated! Treat yourself, your business and your family to better health!