Hygiene Stations for the food industry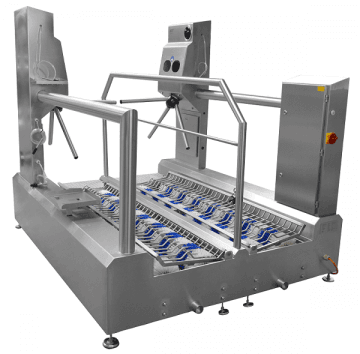 Hygiene station from Heim – EDT are the perfect basis for a successful hygiene concept and form the foundation of optimal personnel hygiene.
Hygiene stations Definition: Hygiene stations are used to prevent and transfer contamination in your food production areas. The Hygiene stations are manufactured according to HACCP standard and are the optimal solution for your food operation.
The Heim – EDT team plans each hygiene station individually according to your needs, such as the number of employees, the spatial conditions, the actual amount of dirt and the hygiene requirements in your company. Thanks to our many years of experience in the manufacture of hygiene stations and constant contact with veterinarians, we know exactly what the legal requirements are. The most important factor for planning the hygiene station is the number of employees who have to pass through the station. The basic equipment of a hygiene station includes:
Hand washing and hand disinfection devices
Sole cleaning and sole disinfection equipment
Shaft cleaning and shaft sole disinfection devices
Hand drying system
With a large number of employees, it is advisable not to combine the individual work steps such as hand cleaning and hand disinfection as well as sole cleaning and sole disinfection in one device, but rather to distribute them to different facilities in order to avoid flooding at the beginning or at the end of the shift. As a result of this adjustment, the capacity of the hygiene station is not exceeded.
Hygiene stations have a wide range of applications thanks to their many possible options. For example, the following areas of application are conceivable.
Hygiene stations in the food industry
Hygiene stations for butchers, bakeries, dairies or similar food establishments
Hygiene stations for kitchens & commercial kitchens
Hygiene stations for industry
The system is then individually adapted to you together with you in order to improve hygiene in your industry or food business.
Hygiene stations are an important part of a successful hygiene concept. The hygiene locks from Heim – EDT GmbH have the following advantages:
Hygienic design
Robust design
High quality components
Low maintenance
reduces bacterial contamination
Protects your products from contamination by bacteria and strengthens personal hygiene
We have a large selection of hygiene sluices and look forward to making you an offer at an attractive price.
Our experience with Hygiene stations in numbers
HEIM - EDT | THE RIGHT CHOICE
Not only do our many years of experience with washing systems, hygiene sluices and industrial facilities speak for us, but also our satisfied customers and partners. We don't just offer you solutions – we develop joint and perfectly tailored concepts and are at your side for any questions, worries and difficulties. Contact us comfortably and without obligation for more information, prices and further information.
Hygiene stations in the food industry
Disinfection, hand cleaning, sole cleaning & shaft cleaning all aspects of personnel hygiene combined in one hygiene lock. Heim EDT's hygiene loop for food businesses is individually adapted to your company and your employees. All Hygiene stations and washing Washing systems are HACCP compliant and have hygienic designs. Your employee can go through the following stations when crossing the Hygiene station according to your wishes.
Sole cleaning and sole infection
Hand cleaning & hand drying and hand disinfection
Shaft cleaning
Electromechanical hub
The Hygiene station for food establishments can also be equipped with soap dispensers, hand washbasins, towel dispensers or paper baskets for your employees. To improve the hygiene of your employees, the following stations can be passed through in the Hygiene stations
Non-contact sensor-controlled soap dispenser or hand disinfection in the Hygiene station (one-hand operation): doses an adjustable amount of liquid hand cleaner for hand cleaning. Non-contact sensor-controlled hand wash basin attached to the Hygiene stations the hot water supply is activated by a sensor for an adjustable time, integrated into the Hygiene station Paper towel dispenser for drying hands and improving hygiene, trash, (option: hot air dryer). Non-contact sensor-controlled hand sanitizer dispenser for 2-hand wetting, doses an adjustable amount of disinfectant into the hands for better hygiene. By triggering the hand disinfection or hand cleaning, the one-time turnstile release is carried out by impulse; with optical signals for release detection (red cross = locked, green arrow = free). Hub: three-armed, electromechanically controlled. Opposite direction from the production can be adjusted either freely or locked. Shoe sole cleaning by pressure activation: when entering the brush rollers, the brush motors and the solenoid valve – cleaning and disinfectant supply according to the injector principle, are activated.
The Heim EDT team has more than 25 years of experience in personal hygiene, hand cleaning hygiene technology, Hygiene stations & washing Washing systems We place the highest demands on our hygiene technology, which is why all parts of our Hygiene stations from hand disinfection & hand cleaning to boot drying, comply with the HACCP concept and are extremely hygienic thanks to innovative design and technologies.
Types of hygiene stations
There are three types of hygiene stations:
1. Forced, spatial hygiene locks: Hygienic components planned in the room
2. Forced, compact hygiene locks: hygiene components combined in one system
3. Hygiene sluice according to operating instructions: small businesses or side entrances
Depending on the size of the company and the local conditions, our health specialists will design a hygiene station tailored to your needs based on the following criteria:
Number of people in a certain period of time
Number of layers
Degree of pollution
The country's food control authority must meet these requirements
Individual operational characteristics
Of course, we check whether the employees have work equipment with them and how or by whom the hygiene components have to be cleaned.
When it comes to what type of escape route you need, keep in mind that an emergency exit is usually useless if there is no exit. Possible transport routes and / or escape routes around the hygiene locks should also be taken into account when planning. Our specially designed and tried and tested escape route swing gates or magnetic locks meet the legally required escape width.
In addition to the smoke alarm devices, you can also install a fire alarm system or an emergency release device that ensures the necessary safety in an emergency.
For example, cleaning staff and their equipment must be taken with you on your trip. Therefore, the speed and cleanliness of system maintenance should be considered. The less dirty the construction and the easier it is to implement a hygiene station, the lower the degree of soiling and the need for cleaning.
We design solutions based on the customer's actual requirements and budget. Even if the installation of hygiene stations in small businesses is not always possible, we can help you achieve this goal by working closely with your food inspector and architect.