Ergonomic transport and lifting aids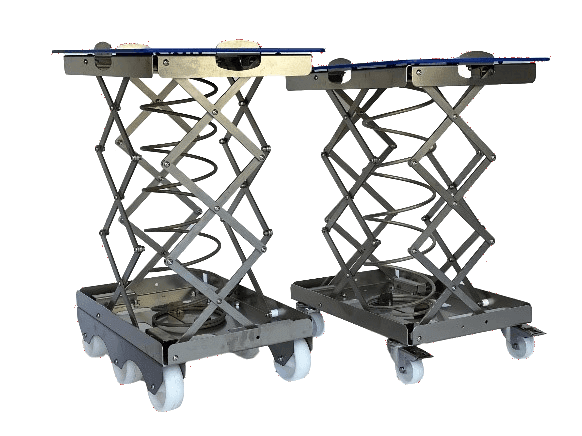 Ergonomic lifting aids for industry & logistics minimize the daily physical strain of your employees. The lifting aids can also be used as transport aids.
The ergonomics devices are adapted to the goods to be transported.
Lifting force per spring between 20 – 150kg
The transport and lifting aids can be used for the following goods, among others.
Boxes
Boxes
Pallets
BigBoxing
Trays
We adapt the systems to your transport goods in election whites
Heavy loads Transport, loading and unloading at ergonomic working height by means of spring force thanks to ergonomic lifting aid
The applied load (payload) is compensated by the built-in spring(s) with which work in production, picking, warehouses, sales rooms … etc. can be carried out with boxes, cardboard boxes, buckets or all stackable materials in a — ergonomic working height —.
Depending on the load or relief of the support table, it automatically lowers or rises to working height.
Loading area (LxB) 610 x 410mm
made of stainless steel 1.4301
1 x Nirosta Spring 80 kg Print
Payload 80 kg
4 stainless steel steering wheels
2 x with stopper
Nylon wheels
Scissor strips made of 5mm stainless steel
maintenance-free plain bearings
Ergonomics Transport Aids & Lifting Aids for Logistics & Industrial Enterprises
Transport aids & lifting aids from the manufacturer Heim – EDT stand for ergonomics in logistics & industry. The lifting aids protect your employees during logistics and warehousing tasks and thus ensure your long-term health. Lifting & transport aids are ideal for all companies that have to transport heavy loads. With the lifting aids, you support your employees in the performance of their operational tasks with regard to your health & also save important time. The ergonomic lifting aids are ideal for all companies and easy to use.