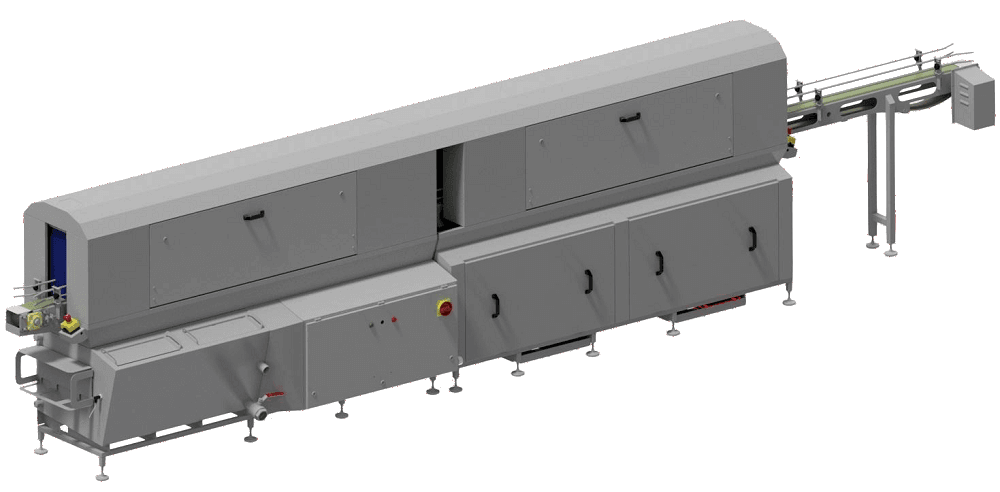 The glass & can washer are made of high-quality stainless steel and comply with HACCP standards. The can & glass washer has a design thatUGthe accumulation of water. The systems are adapted to the dimensions of its can or glasses to be cleaned. Thanks to the built-in water filter, the systems are economical in handling water.
Capacity: 100 – 2,000 glasses or cans per hour
The system can be equipped as follows:
Drying module
Drying via centris dryer
Water
One-man operation
With conveyor belts
Dosing pump
WrasenabzUG
We adapt the Washing system to the can or glasses to be cleaned.
We adapt the systems individually to your needs.
Technical data of a sample plant for 2,000 goods per hour.
Total length: 4000 mm
Height: 1,600 mm
Wide: 600 mm
Material: Stainless steel 1.4301
We can adjust the dimensions to your needs
Our experience with industrial washing systems in numbers
Industrial Can & Glass Washer
High-performanceWashing system in hygienic design with integrated main wash, rinse and subsequent drying. The can washer for quick effective cleaning and drying of glasses / cans after filling. Our systems are manufactured specifically according to the customer's requirements.
The glass washer or cans of washing systems are divided into a main washing zone, rinsing zone and drying zone. The glass / cans are delivered and delivered manually by hand.
In the main washing zone, the glasses are cleaned with circulating water, which is constantly cleaned by the built-in filter system. The built-in tank heating keeps the washing water in the main washing zone constantly at the desired temperature.
In the rinse zone, the glasses are rinsed with clean fresh water. This water is then optimally fed into the main washing zone in the "double cascade system" and continuously regenerates the washing water.
After rinsing, the glasses pass through the drying zone and are blown off dry via air nozzles at high air volume. The blown-off water is also returned to the washing zone via the cascade system.
This process achieves a maximum washing result without pH-value propagation with a minimum water, energy and chemical consumption.
The built-in special washing nozzles ensure a thorough cleaning of the washing material by our glass and canWashing system
HEIM - EDT | THE RIGHT CHOICE
Not only do our many years of experience with washing systems, hygiene sluices and industrial facilities speak for us, but also our satisfied customers and partners. We don't just offer you solutions – we develop joint and perfectly tailored concepts and are at your side for any questions, worries and difficulties. Contact us comfortably and without obligation for more information, prices and further information.